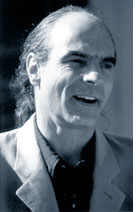 Vito Ricci's leading edge instinct and creativity have made him a vital and prolific composer of illuminating and compelling works. Infused with poignancy and honesty, his music has the power to linger in the listener's memory. An artist who has been called " composer of wide ranging and obsessively fascinating collection of works" by the Wire, and his soundtracks compared to "heirloom seeds put back in circulation" by Pitchfork and "elegant and snappy" by the New York Times. Vito Ricci has been on the leading edge of the downtown music scene since 1979.
During his thirty-year-plus career, Mr. Ricci has scored over fifty productions including concert music, theater, dance, performance, film and video. His collaborative works include partnerships with Bob Holman, Martin Goldray, Rashied Ali, Flux Quartet, Jacob Burkhardt, Lise Vachon, and The Woster Group. Performances of his works have been presented at The Skyball Theater, The Public Theater, La MaMa Theater, Greenwich Music House, Cooper Union, Roulette, The Knitting Factory, St. Marks Church, The Performing Garage, the Walker Arts Center and the Southern Theater, both in Minneapolis.

Mr. Ricci has been the recipient of grants from ASCAP, Meet The Composer, The National Endowment For The Arts and Queens Council on the Arts. Mostly self-taught, he has studied briefly with Ursula Mamlok, Eleanor Cory and Ornette Coleman, and has released CDs of solo piano music, electronic works, song cycles, improvisations and string quartets.
Recent accomplishments include a performance at MOMA/PS1 with Bob Holman in November 2017, one with Lise Vachon at Pacific Rhythm in Vancouver in August 2017, a residency at Sisters, Brooklyn in 2016 with Lise Vachon, a performance at Issue Project Room, August 2015 with Lise and Steve Dalachinsky, scoring "Philosophies" for the Complexions Contemporary Ballet who went on to tour the world in 2007.
Recent recordings are "My Little Life", a book/cassette published by séance-centre in 2017, "Symphony for Amiga ", a vinyl commissioned by Intelligent Instruments in 2016, a double vinyl, "I was Crossing a Bridge", a collection of his works by Music from Memory in 2015, the recording of a CD of his string quartets "I Don't Know Who I Am" by the Flux Quartet in 2009, and producing, composing and playing on Lise Vachon's CD "Vocalise" in 2006 with stellar musicians, Rashied Ali, Peter Zummo, Byard Lancaster and Blue Gene Tyranny..